We proudly showcase CertainTeed Roofing products. They provide a wide array of residential roofing shingle options with profiles that are as beautiful as they are durable. You will get a roof that is made from the highest quality roofing materials and backed by a strong warranty program. It is our promise to you.
Quality made certain; Satisfaction guaranteed.
WHAT ARE THE COMPONENTS OF A RESIDENTIAL ROOF?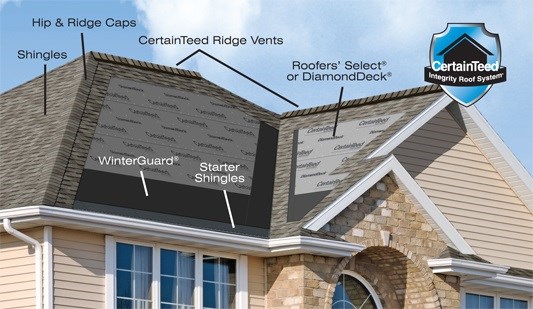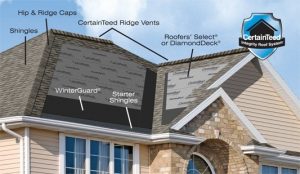 Residential Roofing Products
Residential Roofing Products include those products necessary to provide a quality roofing system typically for a consumer's home, garage or other residential applications. Residential roofing products are usually designed for steep slope application. Products can include roofing shingles, underlayments and accessory products.
Roofing Shingles in Bismarck ND
CertainTeed manufactures high-quality asphalt roofing shingles in a wide variety of styles and colors for residential applications. Asphalt roofing shingles are the most commonly used residential roofing products in the market. There are three major categories of roofing shingles including strip roofing shingles, dimensional roofing shingles and premium roofing shingles.
Dimensional roofing shingles typically are heavier weight than strip roofing shingles. They are manufactured as dual-layered products or multi-layered in the case of CertainTeed's tri-laminate technology.
Underlayments
Underlayments are designed for use on residential roof decks as a water-resistant layer beneath roofing shingles. Waterproofing shingle underlayments prevent leaks from ice dams and wind-driven rain in vulnerable areas. 
Accessory Products
Hip and Ridge
Accessory shingles are used to finish the hips and ridges of a residential roof and carry the same warranty as the shingles they are applied over. There are a number of options designed to complement the appearance of shingles while providing the same level of protection and durability.
Starter Shingles
Starter shingles save application time. They are designed to work specifically with different styles of shingles for consistent appearance and performance.